back project gallery

[25] METAL ROOF IN LANGLEY B.C.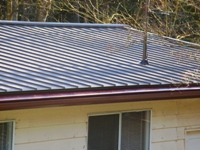 THIS IS ONE OF MANY TAR AND GRAVEL CONVERSIONS TO LOW SLOPE METAL IN THE BROOKSWOOD AREA OF LANGLEY.




THIS ROOF WAS LEAKING AND NEEDED TO BE REPLACED. THE OWNERS STRUGGLED TO DECIDE BETWEEN TORCHON OR LOW SLOPE METAL. THEY CHOSE METAL BECAUSE OF THE AESTHETICS.




WE SEE ALOT OF MOSSY ROOFS IN THE BROOKSWOOD AREA OF LANGLEY.




TAR AND GRAVEL AND TORCHON MEMBRANES WILL COLLECT A TON OF DEBRIS , AND SUPPORT MOSS GROWTH.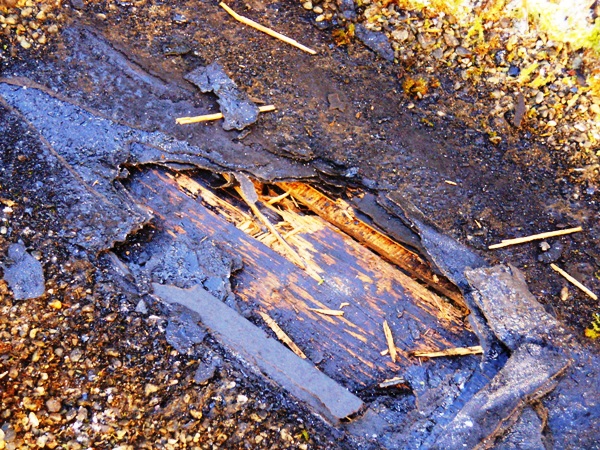 OUR CUT TEST REVEALED THAT THE ROOF WAS MOPPED TO THE DECK, SO WE KNEW THAT THIS WAS GOING TO BE AN UGLY TEAROFF. THIS ROOF COULD ONLY BE REMOVED IN COLD WEATHER; WHEN IT WAS BRITTLE.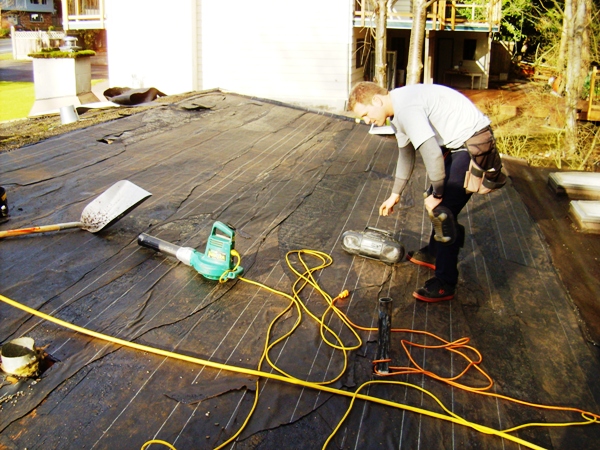 THIS ROOF COULD NEVER HAVE BEEN STRIPPED OFF IN THE SUMMER. FORTUNATELY WE WERE DOING THIS JOB AROUND CHRISTMAS TIME, WHEN THE TEMPERATURE WAS AROUND FREEZING.




THERE WERE SOME VERY NOTICABLE SAGS IN THE ROOFDECK. WE SHIMMED UP THE ROOF WITH ASPHALT SHINGLES BEFORE SHEETING OVER WITH PLYWOOD.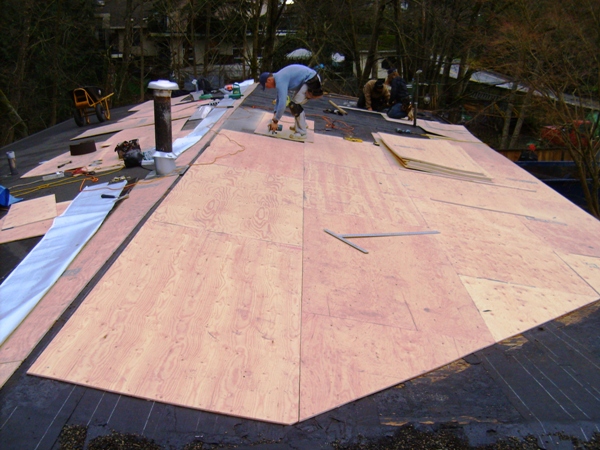 THE ROOF HAD TO BE COVERED IN PLYWOOD TO PROVIDE A SMOOTH, LEVEL SURFACE FOR OUR METAL PANELS. WE APPLIED PEEL AND STICK / ICE AND WATER SHIELD TO WATER PROOF THE ROOFDECK.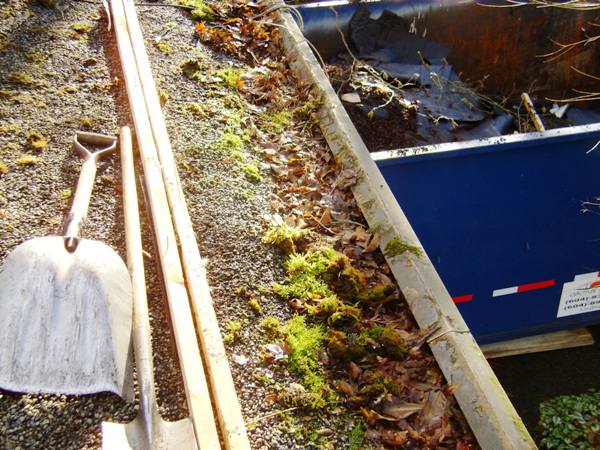 THE OWNER REQUESTED THAT WE ELIMINATE THE BUILT IN GUTTER, IF AT ALL POSSIBLE, BECAUSE IT WAS CONSTANTLY FILLING UP WITH DEBRIS AND OVERFLOWING.




WE COVERED UP THE OLD GUTTER BY EXTENDING THE PLYWOOD TO THE OUTSIDE OF THE FASCIA BOARD. WE WOULD THEN HAVE TO INSTALL AN EXTERNAL GUTTER, WHICH WOULD ALLOW ALL THE DEBRIS TO BE SHED FROM THE ROOF.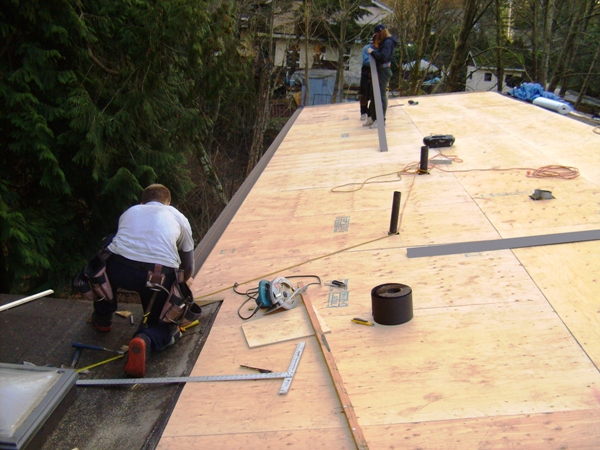 AT THE EAVES WE APPLIED A WATER MEMBRANE AND A METAL DRIP EDGE. WE THEN APPLIED OUR ROOF PANELS WHICH WERE LOCKED ONTO THE DRIP EDGE FLASHING.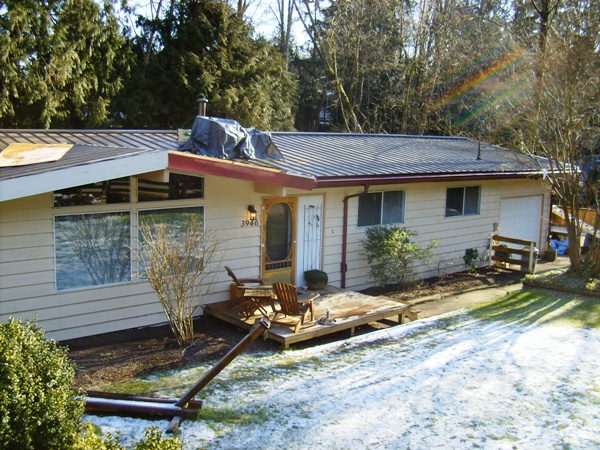 WE COVERED THE FASCIA BOARDS IN BURGUNDY FLASHINGS TO MATCH OUR LOW MAINTENANCE HOODED GUTTERS.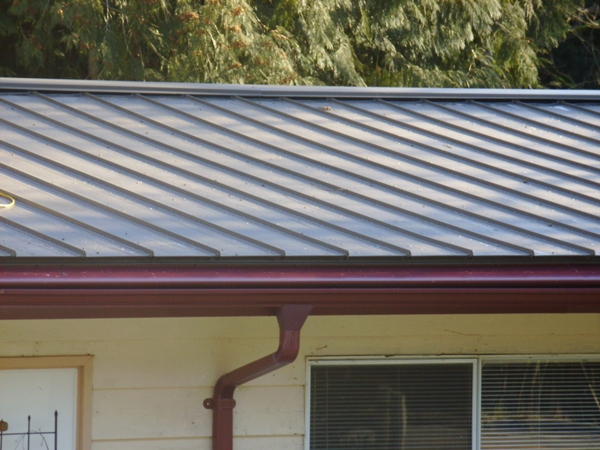 WHAT A DIFFERENCE IN THE APPEARANCE OF THIS HOME. A TORCHON ROOF WOULD NEVER HAVE LOOKED AS GOOD AS OUR ROOF. THE OWNERS WERE VERY SATISFIED WITH OUR SYSTEM.