back project gallery

[27] STEEL ROOF IN VANCOUVER B.C.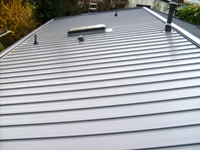 EVERYTHING HAD BEEN MODERNIZED AND UPDATED IN THIS VERY WELL MAINTAINED HOME , EXCEPT FOR THE ROOF. THE OWNERS CHOSE A METAL ROOF FOR IT'S PERMANENCE.




OUR JOB WAS TO INSTALL A METAL ROOF/ UPSIZE THE 2" DRAINS TO 3" DRAINS/ RESET THE DRAINS IN THE GUTTER/ INSTALL NEW DOWNSPOUTS WITH DRAINGUARDS/REPLACE THE FASCIA COVERS/ AND INSTALL NEW SKYLIGHTS




THIS ROOF WAS COVERED IN TRISTAR'S 26 GUAGE SNAPLOCK ROOFING PANEL IN [CHARCOAL GREY] WITH MATCHING CAP FLASHING, FASCIA COVER, AND DOWNSPOUTS.




THE ORIGINAL ROOF HAD 3-TAB DUROID SHINGLES WHICH WERE LATER RECOVERED WITH T-LOCK SHINGLES. THE RECENTLY REBUILT CHIMNEY NEEDED REFLASHING, AND THE ROOF VENTILATION REQUIRED MAJOR UPGRADING.




WE APPLIED A PEEL AND STICK UNDERLAY TO KEEP THE HOME DRY, DURING A RAINY MARCH INSTALLATION.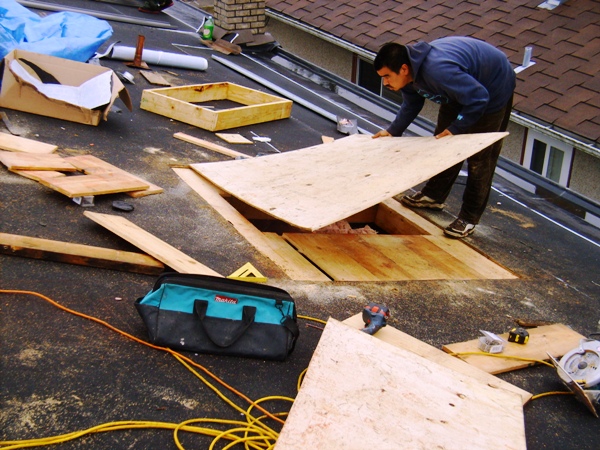 THE OWNERS HAD ALWAYS WANTED A COUPLE OF 2X4 DOUBLE GLAZED GLASS SKYLIGHTS INSTALLED; AND NOW WAS THE RIGHT TIME TO DO IT.




WE HAD TO CUT INTO A TRUSS AND DO SOME BACK FRAMING TO INSTALL THE SKYLIGHTS ON A 2X6 CURB. THE OWNER OFFERED TO DO ALL THE INSIDE FINISHING, WHEN HE COULD GET AROUND TO IT.




A NICE, CLEAN, PROFESSIONAL LOOK TO IT, WHEN IT'S DONE PROPERLY




AFTER SHOT/ FROM BACK TO FRONT. WE CUT A 3 INCH OPENING ACROSS THE PEAK OF THE ROOF AND INSTALLED OUR CONTINUOUS RIDGE VENT SYSTEM. MAXIMUM VENTILATION, YEAR ROUND, WITH A NICE CLEAN LOOK TO IT.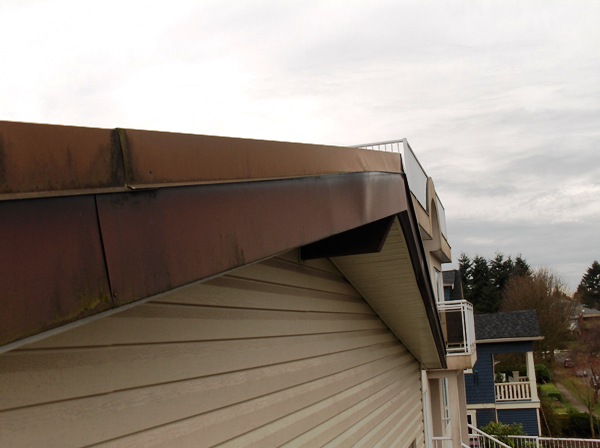 THE FASCIA BOARDS AND CAP FLASHINGS WERE COVERED WITH THE CHEAPEST, CRAPPIEST, THIN ALUMINUM FLASHINGS INSTALLED BY THE SIDING CO, A FEW YEARS AGO. THEY ARE PRACTICALLY FALLING OFF THE BUILDING.




WE INSTALLED 26 GUAGE STEEL FLASHINGS TO MATCH THE ROOF.THE HEAVY GUAGE MATERIAL LAYS NICE AND FLAT AND RESISTS BUCKLING AND OIL CANNING IN THE HEAT OF SUMMER.