back project gallery

[23] METAL ROOF IN SURREY B.C.


OUR JOB WAS TO SHIM UP THE SAGGING ROOFDECK/ INSTALL A PERMANENT METAL ROOF/ RESET AND CONVERT THE DRAINS TO 4 INCH COPPER DRAINS/ INSTALL 3X4 DOWNSPOUTS/ AND COVER THE FASCIAS WITH METAL TO MATCH THE BRICK.




THESE HOMEOWNERS WANTED A TOP QUALITY METAL ROOF THAT WAS AS LOW MAINTENANCE AS POSSIBLE.




THERE WERE SECTIONS OF ROOFDECK AT THE FRONT OF THE BUILDING THAT WERE SAGGING DUE TO THE 2X6 RAFTERS BEING INSTALLED CROWN DOWN. HAVING THE WEIGHT OF TWO TAR AND GRAVEL ROOFS CAUSED FURTHER SAGGING.




WE REMOVED THE SHIPLAP IN THE SAGGING AREAS, AND INSTALLED 2X4 SISTER JOISTS ALONG SIDE OF THE EXISTING JOISTS. AS ALWAYS THE SHIPLAP WAS SHEETED OVER IN 3/8 PLYWOOD FOR A SMOOTH, LEVEL ROOFDECK.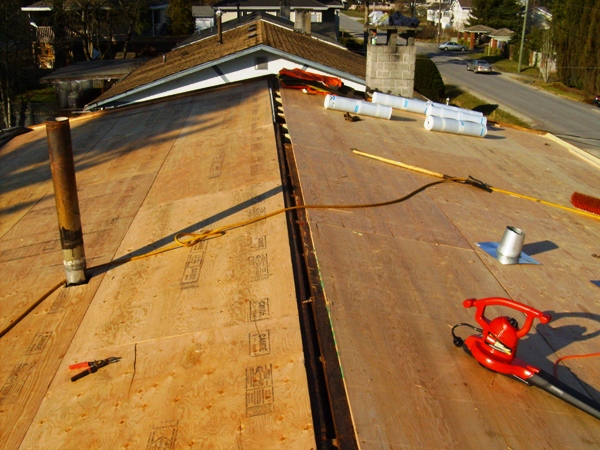 THE OWNERS WERE CONCERNED ABOUT HEAT BUILD UP IN THE SUMMERTIME, SO WE CUT OUT A LIBERAL OPENING ACROSS THE PEAK, FOR OUR CONTINUOUS RIDGE VENT SYSTEM




THE APPLICATION WAS IN MARCH SO WE APPLIED A PEEL AND STICK WATERPROOFING MEMBRANE OVER THE ENTIRE ROOFDECK.




WE INSTALLED NEW 1X4 CANT STRIPS AT THE EAVES, WHICH WERE BEVELLED AT THE EDGES FOR A NICE EVEN FIT. AS USUAL, THE GUTTER LINER WAS 3 FOOT EPDM RUBBER.




WE INSTALLED SIX - 4 INCH COPPER DRAINS WHICH WERE RESET AT THE BOTTOM OF THE CANT FOR BETTER DRAINAGE. AFTER A RAINFALL WE OBSERVED, THAT THERE WAS BARELY A TRACE OF STANDING WATER IN THESE GUTTERS.




HOW SWEET IT IS. YOU CANT SEE THE ROOF FROM THE GROUND, BUT WHO CARES.THE HOMEOWNERS WERE EXTREMELY HAPPY TO GET A PERMANENT, LOW MAINTENANCE ROOF.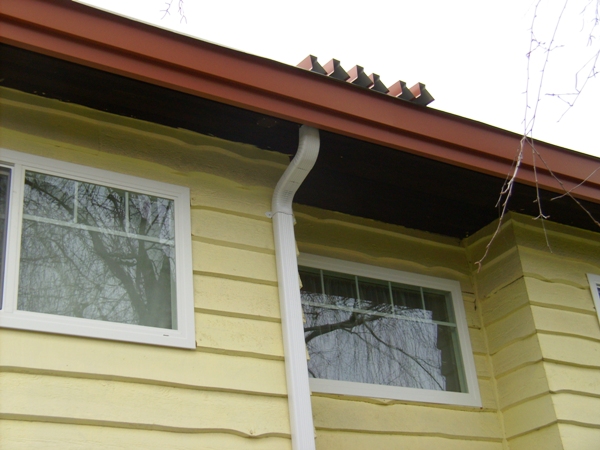 WE INSTALLED 3X4 DOWNSPOUTS WHICH WILL PROBABLY NEVER PLUG UP, FROM LEAVES, OR ICE AND SNOW. THE MRS. CHOSE THE TERRA COTTA FASCIA FLASHINGS TO MATCH THE BRICK SIDING. GOOD MATCH!




ANOTHER JOB WELL DONE BY TRISTAR ROOFING.