back project gallery

[48] METAL ROOF IN WHITEROCK B.C.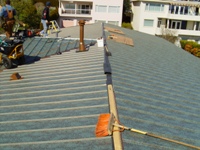 TRISTAR'S 24 GUAGE SNAPLOCK PANELS IN [VINTAGE COPPER] , KYNAR FINISH.




THIS OLDER HOME ON PACIFIC AVE IN WHITEROCK, WAS DEFINITELY IN NEED OF A FACELIFT. OUR JOB WAS TO INSTALL A NEW METAL ROOF, NEW ALUMINUM SOFFITS, FASCIA COVERS AND EXTERNAL GUTTERS.




WHENEVER IT RAINED THE ROOF LEAKED AT THE EAVES. THIS IS WHAT MOTIVATED THE HOMEOWNER TO TAKE ACTION.




WE KNEW FROM THE AGE OF THE HOME, THAT THE ROOFDECK WOULD BE SHIPLAP. WE ALWAYS RESHEET OVER WITH PLYWOOD TO GET A SMOOTH , STABLE ROOFDECK TO WORK WITH.




THIS PICTURE SHOWS THE ROOFDECK WET AT THE EAVES. THE SHIPLAP WASN'T ROTTEN, BUT WE DID HAVE TO REPLACE SOME DETERIORATED 1X4 CANT STRIP. NOTICE HOW THE GUTTER TAKES A DIP AT THE EAVES.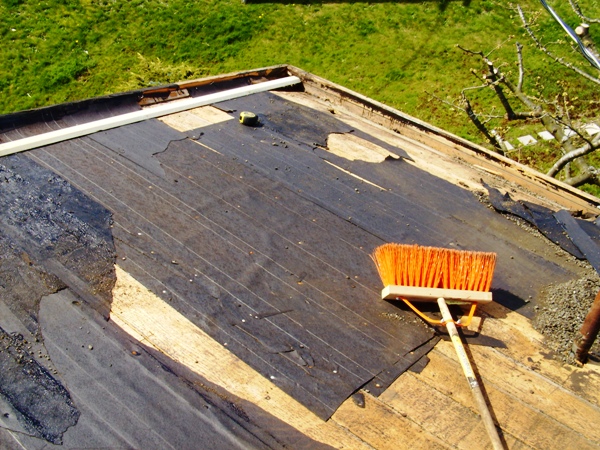 WE DETERMINED THAT IF WE COULD REMOVE ALL THE EXISTING 2X2 LUMBER, THEN WE COULD EXTEND THE PLYWOOD TO COVER OVER THE BUILT IN GUTTER SYSTEM. THIS WOULD ALLOW US TO INSTALL EXTERNAL GUTTERS.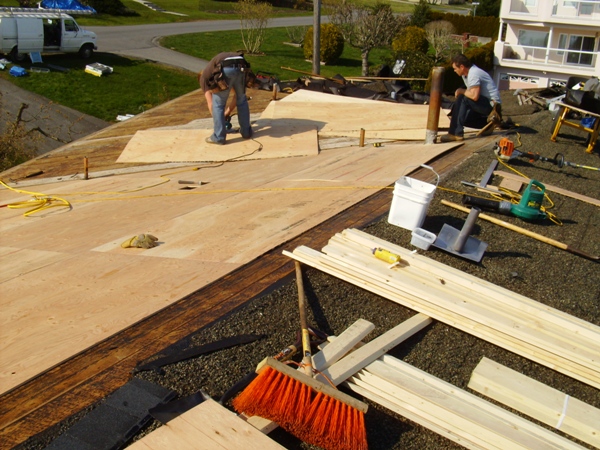 THE ENTIRE ROOFDECK WAS RESHEETED WITH STANDARD PLYWOOD. [ NEVER OSB ]




WHILE THE GUYS ARE COVERING THE PLYWOOD WITH PREMIUM ICE AND WATER SHIELD, CHRIS AND DERRICK, MANUFACTURE THE ROOF PANELS ON SITE. WE ARE USING CASCADIA METALS COIL STOCK IN [VINTAGE COPPER].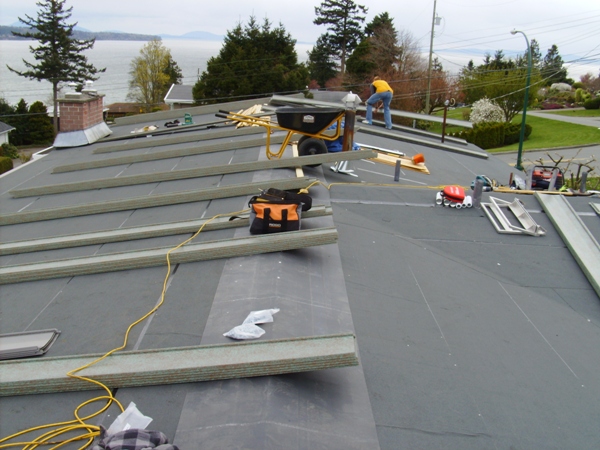 THE ROOF PANELS ARE SPREAD OVER THE ROOF, AND STRAPPED DOWN OVER NIGHT.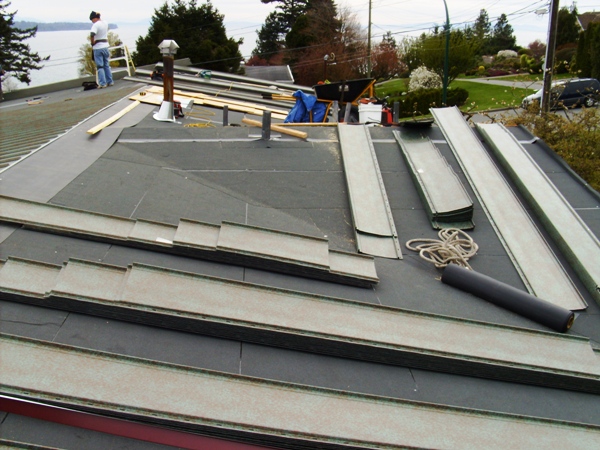 ALL THE PANELS ARE PRECUT TO CUSTOM LENGHTS TO FIT THE TAPERED VALLEY SECTIONS.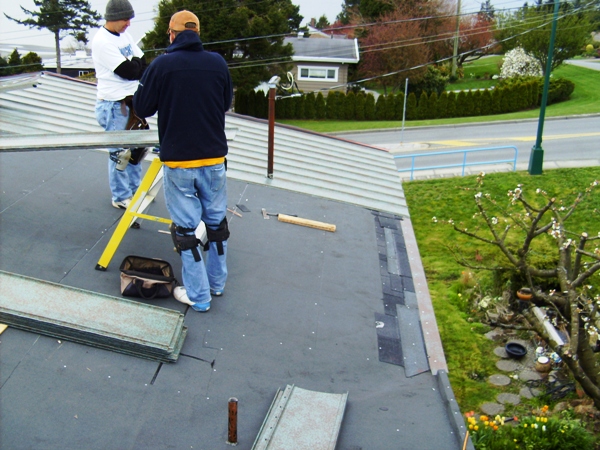 WE INSTALLED AN EAVE TRIM, TO WHICH THE ROOF PANELS WERE HOOKED ONTO. WE USED SOME ASPHALT SHINGLES AS SHIMS , JUST TO MAKE SURE THE PANELS WOULD LAY FLAT.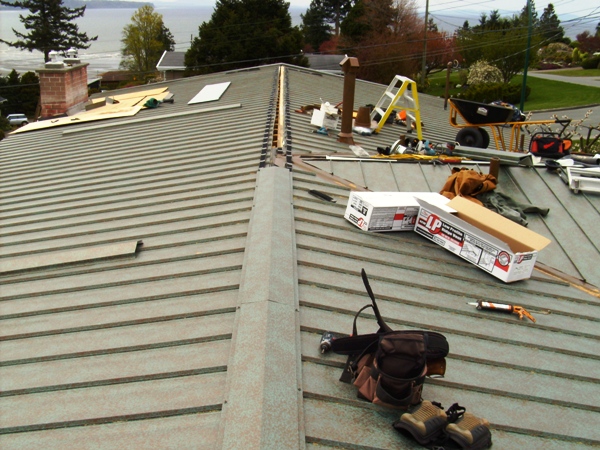 THIS ROOF IS NEARING COMPLETION, AND IT'S STARTING TO LOOK REAL SWEET. THE VINTAGE COPPER DOESN'T LOOK QUITE RIGHT UNTIL YOU LAY ENOUGH PANELS DOWN TO SEE THE TRUE COLOUR OF THE ROOF.




CHRIS AND DERRICK INSTALLED ALL THE NUTMEG BROWN FASCIA AND GABLE COVERS, PLUS OUR LEAFPRO HOODED GUTTER SYSTEM.




CLOSEUP OF OUR ROOF PANELS HOOKED AT THE EAVES , AND OUR HOODED GUTTERS.