back project gallery

[26] METAL ROOF IN LANGLEY B.C.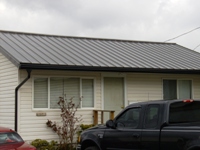 I HATE HAVING TO DO THINGS TWICE; IT'S SUCH A WASTE OF MONEY AND TIME. I TRY TO ADVISE MY CUSTOMERS THAT FIBREGLASS SHINGLES DON'T LAST ANY WHERE NEAR AS THEIR WARRANTIES CLAIM. REGARDLESS OF BRAND, THE MOST THAT YOU CAN EXPECT IS 10 TO 15 YEARS. I RECOMMEND TO MOST HOMEOWNERS THAT HAVE HIGH EXPECTATIONS TO SERIOUSLY CONSIDER METAL ROOFING.




IN THE LAST FEW YEARS, THE MILDEW STAINING HAS MADE THE ROOF APPEAR UNATTRACTIVE. DURING OUR SPRING CLEANING EFFORTS WE DISCOVERED HOW POOR A CONDITION THESE SHINGLES WERE IN.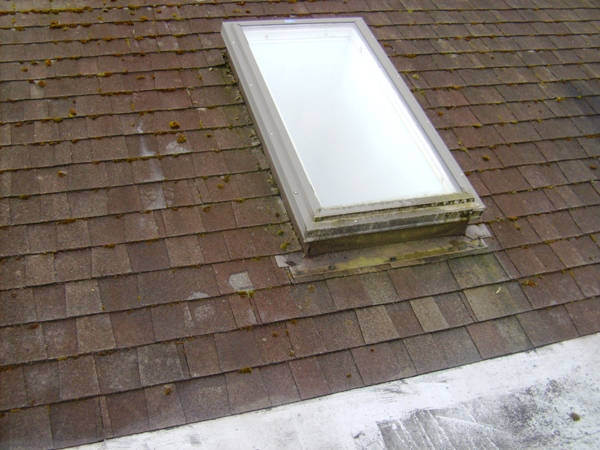 WE PURCHASED THE MORE EXPENSIVE ALGAE RESISTANT SHINGLES, WHICH WERE MOST IN EFFECTIVE FOR MOSS OR MILDEW.




A CLOSEUP OF THESE SHINGLES EXPOSED SURFACE CRACKS OVER THE ENTIRE ROOF SURFACE. THIS SHINGLE BRAND WAS AT ONE TIME HIGHLY PROMOTED BY A WELL KNOWN TV. AND RADIO HOME IMPROVEMENT SPECIALIST.




PARTS OF THE LAMINATED PORTION OF THESE SHINGLES HAVE BEEN LOST IN THE WIND.




WE STRIPPED OFF THESE SHINGLES, COVERED IN THE OLD VENT HOLES WITH 3/4 INCH PLYWOOD, AND CUT A LIBERAL OPENING IN THE PEAK FOR OUR CONTINUOUS RIDGE VENT SYSTEM.




WE HAD A COUPLE DAYS OF DOWN TIME SO I GOT MY METAL GUYS TO RUN OFF SNAPLOCK ROOF PANELS, IN CHARCOAL. A CLOSEUP SHOWS HOW WE CUT OFF THE HIGH RIBS, AND INSERT OUR METAL FOLDER.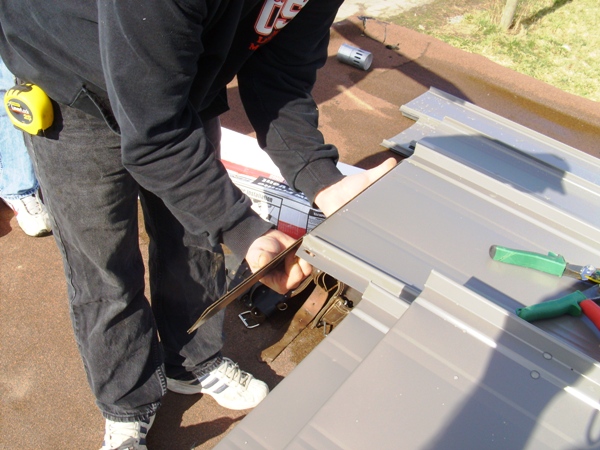 WE FOLD THE METAL TO CREATE A HOOK ON THE PANEL, WHICH LOCKS INTO A FLASHING ON THE ROOF.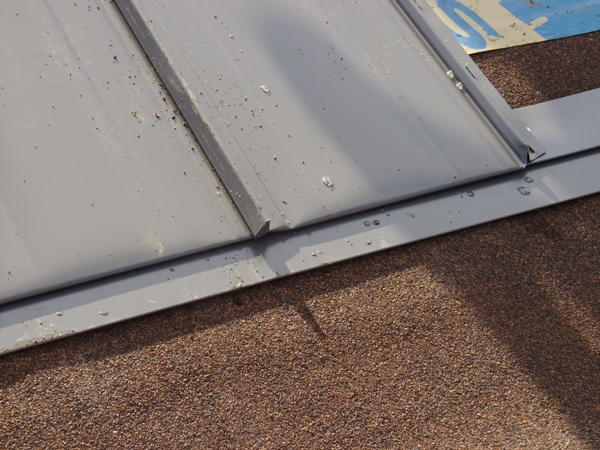 THE ROOF PANELS SHOWN HERE ARE LOCKED INTO AN EAVE TRIM, WHICH WE MADE IN OUR METAL SHOP NEXT DOOR.




CLOSEUP OF THE SKYLIGHT FLASHING DETAIL. THE GLASS SKYLIGHT ALSO HAD TO BE RELACED, AFTER 10 YEARS, AS THE SEAL WAS GONE.




WE COVERED THE FASCIA BOARDS IN METAL AND INSTALLED OUR HOODED GUTTERS. I CAN SAY WITH CONFIDENCE, THAT I WILL NEVER HAVE TO REPLACE THIS ROOF IN MY LIFETIME. PAUL BRALOVICH, OWNER, TRISTAR ROOFING.