back project gallery

[7] METAL ROOF CLADDING IN SURREY B.C.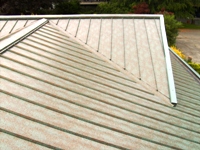 THE OWNER OBSERVED THAT HIS FIBERGLASS ASPHALT SHINGLES AND THOSE OF HIS NEIGHBORS LOOKED TERRIBLE AFTER A FEW SHORT YEARS. THEY WERE COVERED IN BLACK MILDEW STAINS AND MOSS. HE CHOSE A METAL ROOF TO ENHANCE THE APPEARANCE, AND ADD VALUE TO THIS UPSCALE HOME IN PANORAMA RIDGE.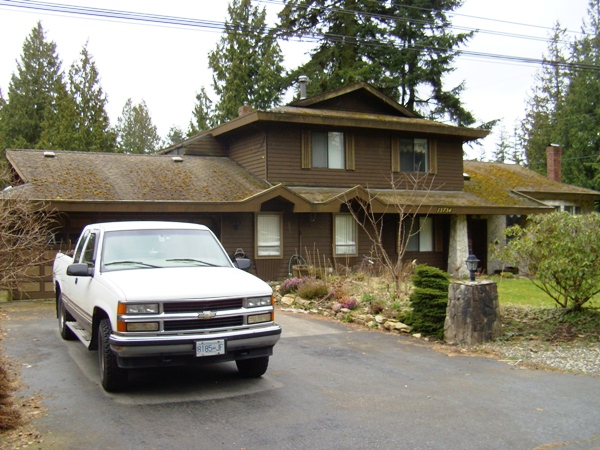 HE LOOKED AT STEEL SHAKES AND SHINGLES, BUT WAS TURNED OFF BY THE FACT THAT THEY WERE NOT EASY TO WALK ON, AND WOULD DENT FROM FOOT TRAFFIC. OUR SNAPLOCK ROOFING PANELS WOULD BE THE MOST PRACTICAL.




THIS ASPHALT ROOF REQUIRED DEMOSSING EVERY YEAR. AND THE GUTTERS HAD TO BE CLEANED AT LEAST ONCE A MONTH.




AS YOU CAN THE ZINC STRIPS ARE NOT ENTIRELY EFFECTIVE AGAINST MOSS GROWTH. METAL ROOFS DO NOT SUPPORT MOSS GROWTH.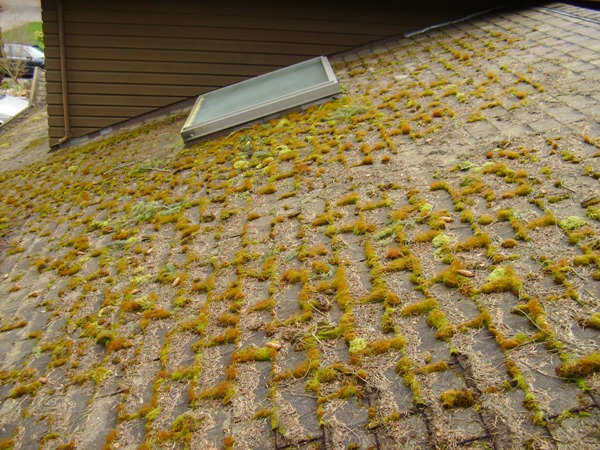 ALL ASPHALT SHINGLES SHOULD BE MAINTAINED TO PREVENT MOSS GROWTH. MOSS CAN PREVENT PROPER DRAINAGE ON THE ROOF. WATER WILL BE FORCED SIDEWAYS UNDER THE SHINGLES CAUSING ALL SORTS OF LEAK PROBLEMS.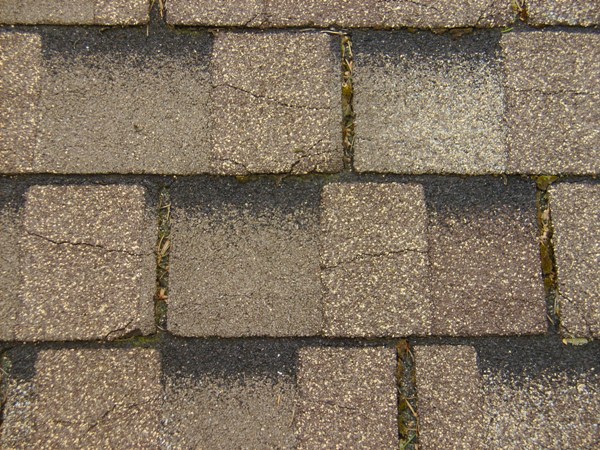 IT DOESN'T MATTER WHAT THE MANUFACTURER CLAIMS IN THEIR WARRANTY, BUT THESE SHINGLES ARE FRIED AT 12 YEARS. HOW LONG BEFORE THIS ROOF DEVELOPS SOME SERIOUS LEAKS???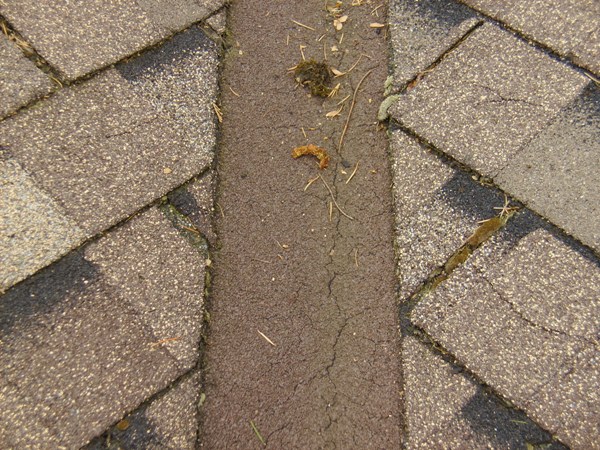 HEY, AND WHAT ABOUT THE TORCHON MEMBRANE IN THE VALLEYS? IT'S NOT WEARING ANY BETTER THAN THE FIBREGLASS ASPHALT SHINGLES.




THE ROOF WAS STRIPPED OFF AND WE APPLIED NEW EPDM RUBBER IN THE GUTTERS[ WHICH SHOULD LAST FOR 50 YEARS], AND ICE AND WATER SHIELD OVER THE ENTIRE ROOFDECK FOR A SUPERIOR WATER TIGHT APPLICATION.




THIS WAS NOT AN EASY JOB. THERE WERE ALOT OF SQUARES AND A TON OF CUSTOM METAL FLASHING WORK TO BE DONE.




WE ROLL FORMED OUR METAL ROOF PANELS ON SITE. A LOT OF THESE PANELS WERE DIFFERENT LENGTHS, SO WE HAD TO KEEP GOOD TRACK OF, WHERE EVERYTHING WENT.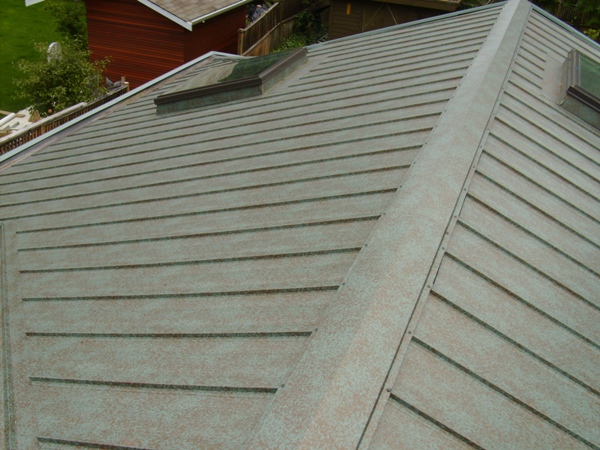 WE GOT RID OF THE DOMED PLASTIC SKYLIGHTS, AND WE INSTALLED DOUBLE GLAZED FLAT GLASS SKYLIGHTS.




OUR METAL ROOF WAS COVERED IN PINE NEEDLES, ON A DAILY BASIS. AFTER A DAY OF RAIN, THE ROOF THE ROOF WAS CLEAN AS A WHISTLE.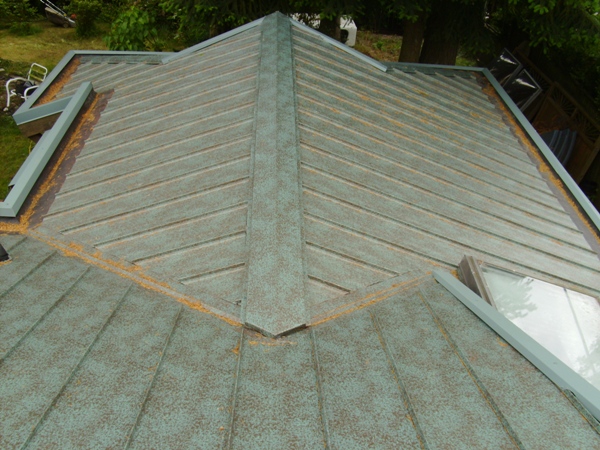 THIS METAL ROOF LOOKS AND PERFORMS SO MUCH BETTER THAN THE PREVIOUS ASPHALT ROOF.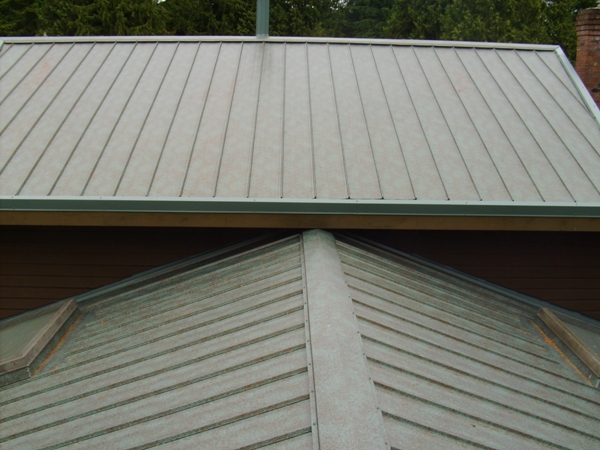 THE MATERIALS WE USED FOR OUR METAL ROOF WAS CASCADIA METALS - VINTAGE COPPER, IN 24 GUAGE, KYNAR FINISH




WE INSTALLED 4 INCH COPPER DRAINS FOR MAXIMUM DRAINAGE.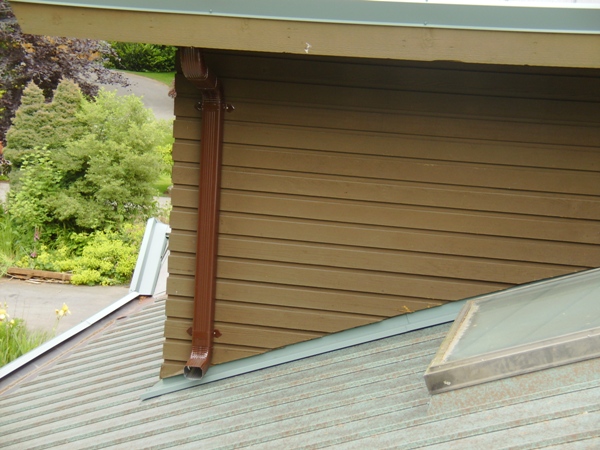 WE USED 3X4 DOWNSPOUTS, FOR POSITIVE DRAINAGE.




FRONT VIEW OF OUR METAL ROOF.




THIS METAL ROOF ADDED VALUE TO THIS HOME IN PANORAMA RIDGE.