back project gallery

[5]LOW SLOPE METAL ROOF IN DELTA, B.C.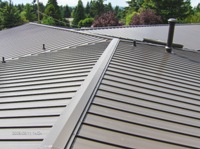 WHEN REPLACING A TAR AND GRAVEL ROOF, THERE AREN'T ANY EASY CHOICES TO BE MADE. NOT EVERYONE CAN AFFORD A METAL ROOF. TORCHON COSTS LESS, BUT LOOKS LIKE ROLLED ROOFING. SHINGLES COST LESS, BUT LOOK BETTER THAN TORCHON. LOW SLOPE ROOFS ARE MORE PRONE TO LEAKAGE, AS THEY DO NOT SHED WATER LIKE STEEP ROOFS. TORCHON APPLICATIONS ARE MORE WATERTIGHT THAN SHINGLES, ANY DAY...CHOOSE WISELY.




THIS IS ANOTHER EXAMPLE OF A LOW SLOPE APPLICATION -2/12 PITCH, WHERE SHINGLES DID NOT PROVIDE LONG TERM COVERAGE. THERE WERE MULTIPLE LEAKS, AND THE HOMEMADE SKYLIGHT WAS A MESS.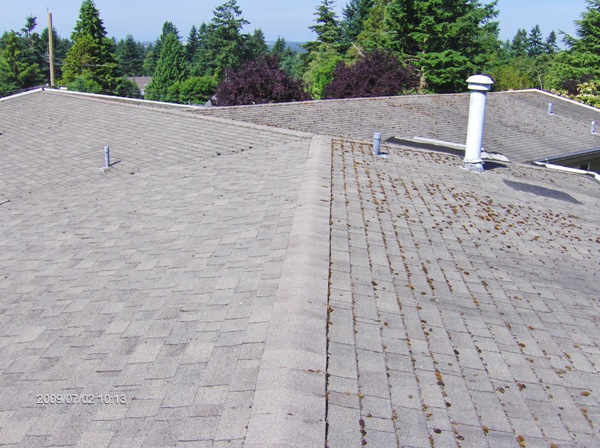 THESE 30 YEAR RATED FIBREGLASS SHINGLES ONLY LASTED 12 YEARS. NEARLY HALF OF THE GRANULES ON THE SHINGLES HAD WASHED OFF, AND THE COLOUR HAD FADED.




THIS HOME IS IN A VERY NICE, CLEAN NEIGHBOURHOOD IN SUNSHINE HIILS. A CLASSY HOME, WITH AN UGLY SHINGLE ROOF.THE HOMEOWNERS DECIDED TO MODERNIZE THEIR HOME, WITH A LIFETIME STEEL ROOF.




THE TORCHON GUTTER LINER WAS WORN OUT, AND LEAKING AS WELL. ONE WOULD HAVE EXPECTED AT LEAST 20 YEARS ON THE MEMBRANE.THE MANUFACTURER WARRANTIES FROM IKO AND SOPREMA ARE ONLY 10 TO 15 YEARS.




WE STRIPPED THE SHINGLES AND REDECKED THE ROOF WITH 3/8 PLYWOOD. WE USED DECKARMOUR AS USUAL, FOR THE UNDERLAY.




WE COMPLETELY REBUILT THE SKYLIGHT CURB AND ORDERED A PROPER GLASS SKYLIGHT FROM COLUMBIA SKYLIGHTS.




WE TENTED THE METAL ROOF SO WE COULD CATCH SOME SHADE. THERE WAS A HEAT WAVE, IN THE SUMMER OF 2009.




A NICE NEW CHIMNEY COLLAR.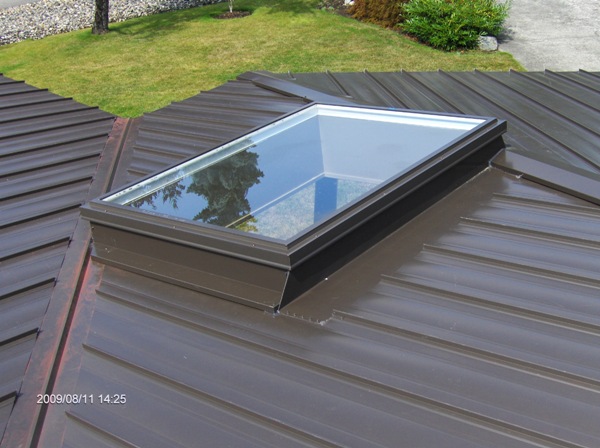 A RESPECTABLE LOOKING SKYLIGHT AND FLASHING ASSEMBLY.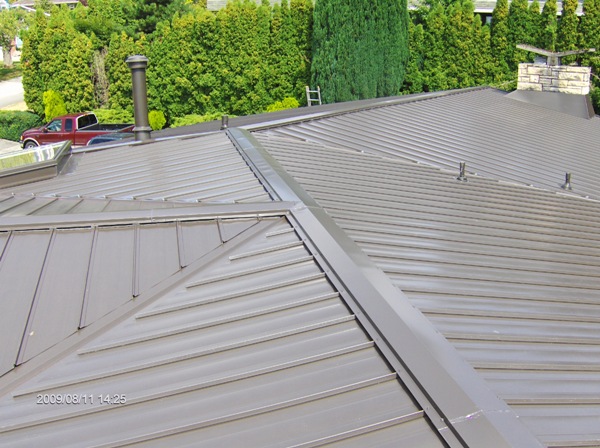 WE ROLL FORMED OUR METAL SNAPLOCK ROOFING PANELS, USING 24 GAUGE PREPAINTED STEEL FROM CASCADIA METALS -[DARK BRONZE], KYNAR FINISH.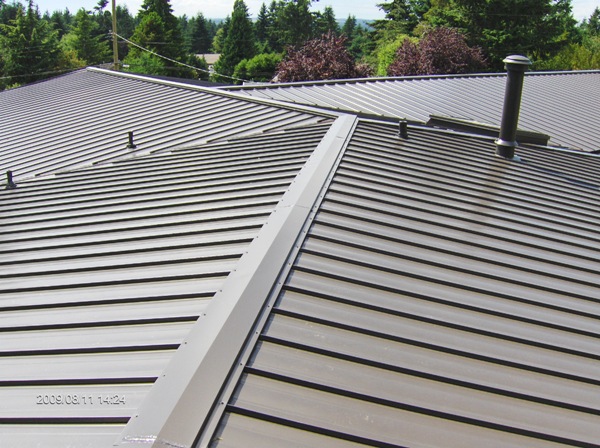 TRISTAR'S METAL ROOF SYSTEM, GAVE THIS HOME AN AIR OF CLASS AND DISTINCTION. IT CHANGED THE LOOK OF THE WHOLE NEIGHBOURHOOD.




WE INSTALLED SNOW GUARDS TO PREVENT THE SNOW FROM DUMPING OVER ENTRYWAYS TO THE HOUSE.




THIS METAL ROOF AND GUTTER PACKAGE IS COMPLETE NOW. NOTICE THAT WE GOT RID OF THE INTERNAL GUTTER SYSTEM, AND INSTALLED OUR LEAFPRO HOODED GUTTER SYSTEM.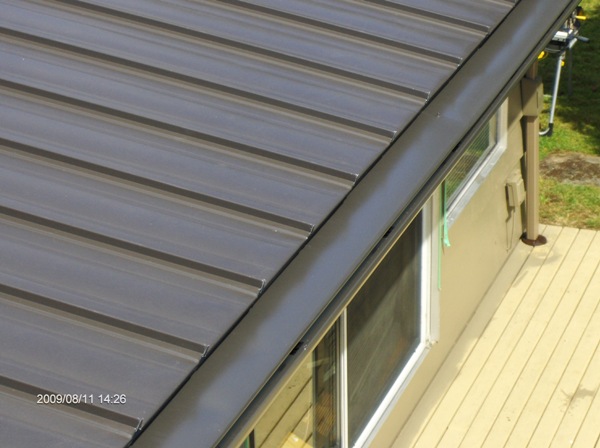 WE COVERED ALL THE FASCIAS IN METAL, AND INSTALLED OUR LEAFPRO HOODED GUTTERS, FOR A TRULY LOW MAINTENANCE METAL ROOF AND GUTTER PACKAGE.




METAL ROOF AND GUTTER SYSTEM, CLOSEUP.ANOTHER JOB WELL DONE BY TRISTAR'S METAL ROOFING PROS.