back project gallery

[60] METAL SHINGLES, LANGLEY B.C.[2009]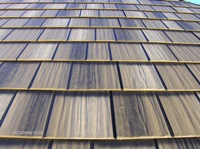 MY PRESSURE TREATED CEDAR SHINGLES ARE 20 YEARS OLD. THERE IS NO SIGN OF ROT, HOWEVER THEY ARE CUPPED AND CURLED AND CRACKED ALL OVER FROM EXTREME HEAT IN THE SUMMERTIME. I HAVE SPENT ALOT OF TIME PATCHING AND SHIMMING THE ROOF TO FORSTALL THE INEVITABLE REPLACEMENT. LEAKS HAVE FORCED ME TO TAKE ACTION.




I PERSONALLY WOULD NEVER WANT ANOTHER CEDAR ROOF. I LIKE THE LOOKS OF THEM, WHEN THEY'RE BRAND NEW, BUT TAKE A LOOK AT THEM 5 YEARS LATER. THEY ARE VERY EXPENSIVE TO INSTALL, AND A PAIN TO MAINTAIN.




THE THING THAT I HATED ABOUT CEDAR SHINGLES, WAS KEEPING WASPS, MICE AND SQUIRRELS FROM GETTING INTO OUR HOUSE THROUGH THE ROOF. A ROOF SHEETED IN WITH PLYWOOD WILL SOLVE THIS PROBLEM.




I AM REPLACING THE EPDM GUTTER LINER NOT BECAUSE IT WAS WORN OUT, BUT BECAUSE THE LAST INDO-INSTALLER NEVER TOOK CARE OF DETAILS. I HAD TO REPAIR EVERY CORNER AND EVERY DRAIN OVER THE YEARS.




I WAS HOPING THIS JOB COULD WAIT UNTIL SPRING, BUT WE CAN REROOF PRETTY WELL ALL YEAR ROUND. WE JUST MANAGE TO DO IT, A SECTION AT A TIME.




WE CHOSE THE METAL SHINGLE IN ENHANCED T-TONE, WHICH IS VERIGATED IN COLOUR. EDCO IS THE ONLY MANUFACTURER THAT I KNOW OF THAT MAKES A MULTICOLOURED METAL SHINGLE.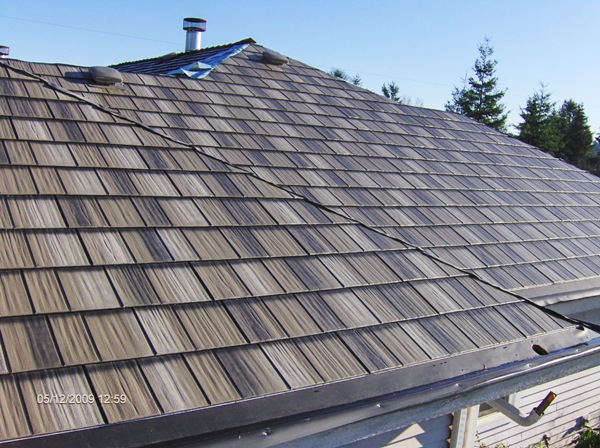 WE COULDN'T HAVE PICKED A BETTER COLOUR TO SUIT OUR HOUSE. I WASN'T TOO SURE OF THE COLOUR INITIALLY, BUT NOW THAT A GOOD CHUNK OF THE ROOF IS DONE, IT'S GROWN ON ME.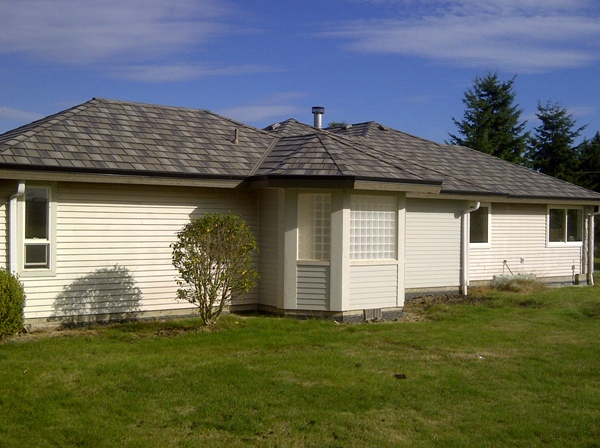 I LIKE THE APPEARANCE, AS IT STANDS OUT AT A DISTANCE. IT DOESN'T LOOK LIKE YOUR TYPICAL METAL ROOF. PEOPLE ASK ME WHAT TYPE OF ROOF IT IS, BECAUSE THEY HAVE NEVER SEEN ANYTHING LIKE IT.