back project gallery

[33] STEEL TILE ROOF IN CHILLIWACK B.C.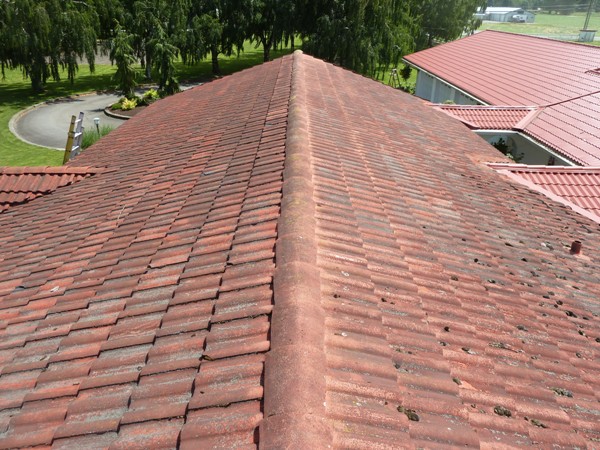 THE ORIGINAL CONCRETE TILES LASTED 30 YEARS. HOWEVER MULTIPLE LEAKS FORCED THE OWNER TO REPLACE THE ROOF.




THE STEEL TILE PANELS ON THE ADDITION WAS A PRODUCT CALLED STILE,ORIGINATING FROM THE USA. WE LOOKED AT WESTFORM'S DECKTILE, BUT IT WAS NOT GOING TO BE A PROPER MATCH.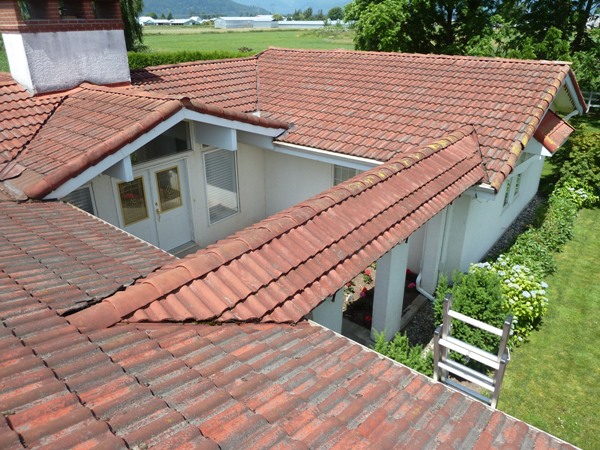 THE ROOF WAS HIGHLY VISIBLE FROM THE ROAD. THE PROJECT HAD TO BE DONE PROPERLY, TO MAINTAIN IT'S VISUAL APPEAL.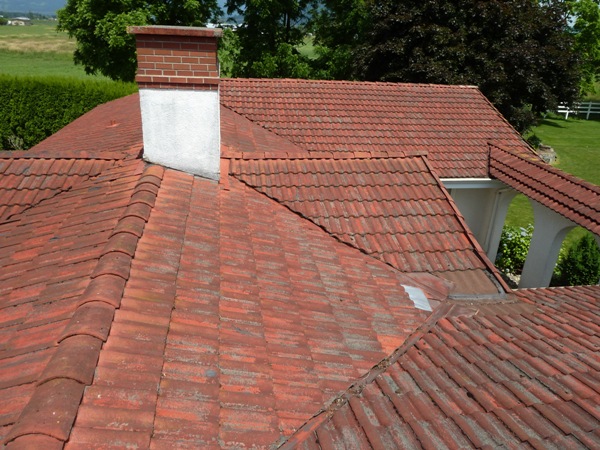 THERE WERE ALOT OF HIPS AND VALLEYS.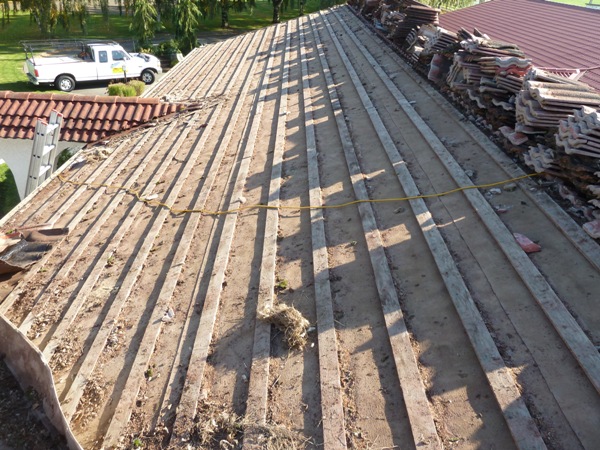 WE REMOVED THE CONCRETE TILES AND FOUND LOTS OF STRAW, DEAD BIRDS, BATS, RATS AND MICE.YEAH IT MADE US SICK TOO.




WE REPLACED SOME DETERIORATED STRAPPING WHERE REQUIRED, AND THEN APPLIED 1/2 PLYWOOD.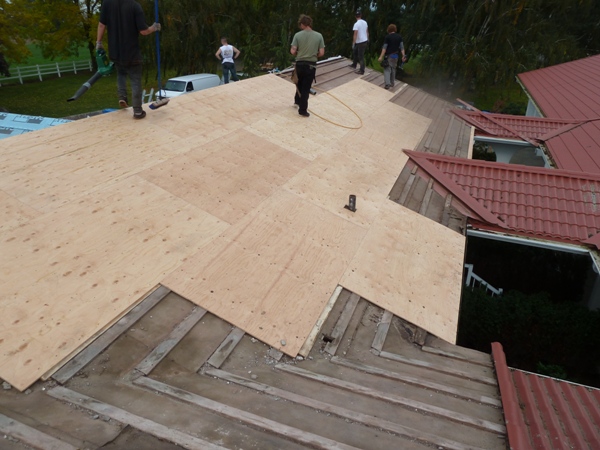 WE DROPPED IN SOME MORE 1X4 STRAPPING FOR ADDITIONAL BACKING OR SUPPORT.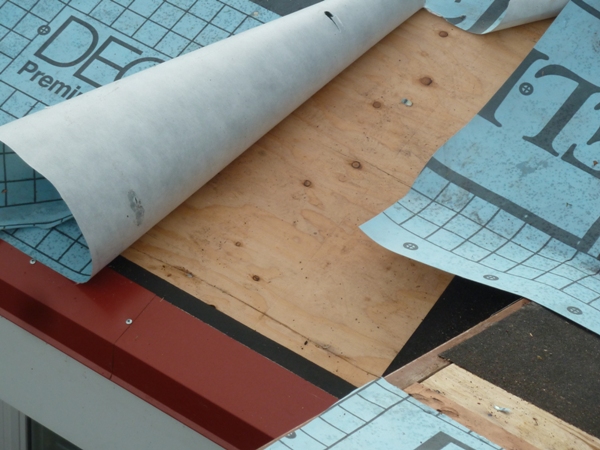 WE APPLIED FELT AT THE EAVES BEFORE THE METAL DRIP EDGE FLASHING WAS INSTALLED.




THE REST OF THE ROOF WAS COVERED IN DECKARMOUR PREMIUM UNDERLAY.




WE UNCRATED THE PANELS AND SPREAD THEM OUT ON THE GROUND.




WE MADE OUR STRAIGHT CUTS WITH OUR METAL SHEER.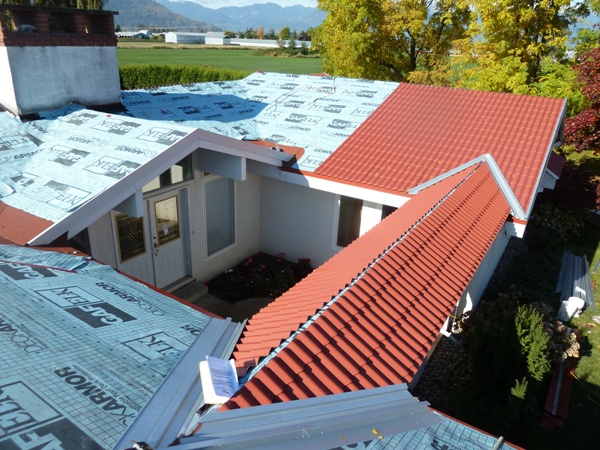 THE JOB IS COMING TOGETHER QUITE NICELY. THERE'S ALOT OF ANGLE CUTS HERE.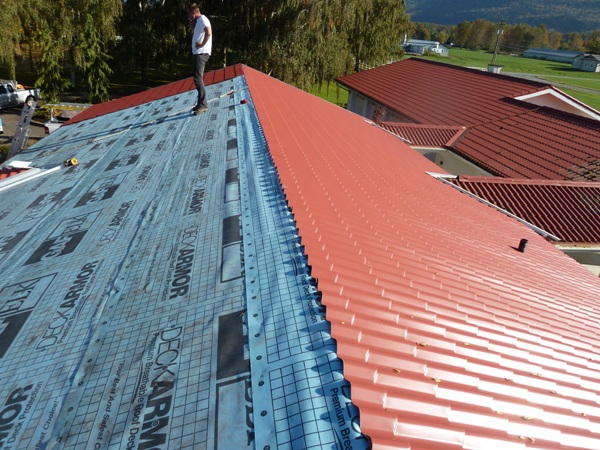 WE ARE MORE THAN HALF WAY TO COMPLETION.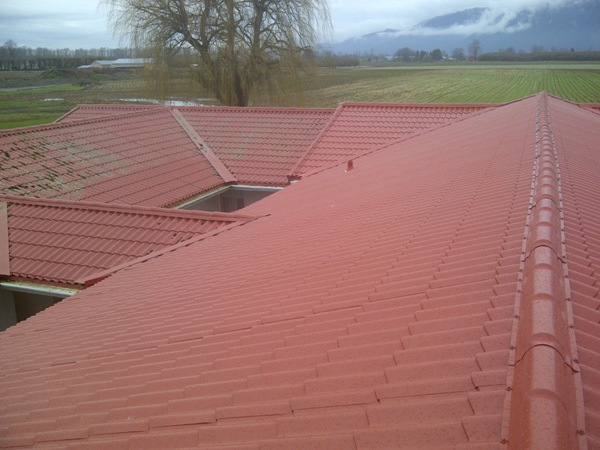 THE TWO ROOFLINES FINALLY MATCH UP. NOTICE THAT THERE IS NO NOTICEABLE FADING BETWEEN THE OLD PRODUCT AND THE NEW. THAT SHOWS THE SUPERIORITY OF A KYNAR FINISH. THE OWNER IS GOING TO WASH THE OLD ROOF