back project gallery

[95]METAL ROOFING IN VANCOUVER B.C.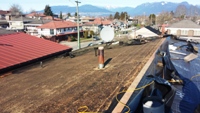 THIS IS ANOTHER VANCOUVER SPECIAL THAT WE REROOFED WITH LOW SLOPE METAL.TRISTAR ROOFING WAS THE ONLY COMPANY THAT ADDRESSED THE PROBLEMS ANTICIPATED WITH A SAGGING ROOF DECK.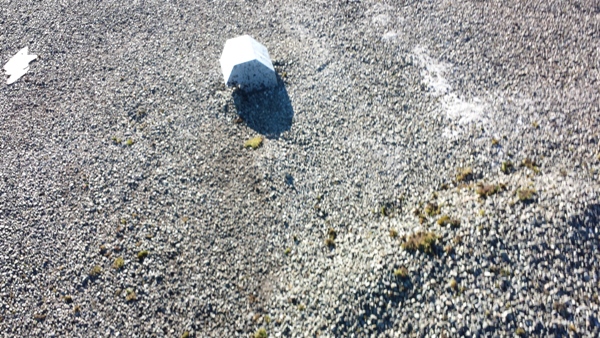 THE PREVIOUS CONTRACTOR[ARBUTUS ROOFING] WAS CONSULTED REGARDING ROOF LEAKS. THEY POURED A BAG OF CEMENT OVER THE CRACKS, AND TOLD THE OWNERS,THE PATCH WOULD ONLY LAST A MONTH.




THERE WERE MORE LEAKS DISCOVERED WHEN WE TORE OFF THE TAR AND GRAVEL ROOF.




THE CONDITION OF THE OSB SHEETING WAS DEPLORABLE. THE SAGS WERE DUE TO ROOF LEAKS AND INSUFFICIENT VENTILATION.THERE WERE ONLY 4 SMALL GOOSENECK VENTS INSTALLED,INCORRECTLY.




THE GAME PLAN TO LEVEL OFF THE ROOF DECK: WAS TO APPLY 1/2 PLYWOOD SHEETING OVER THE EXISTING ROOF, AND NAIL ON THE RAFTERS.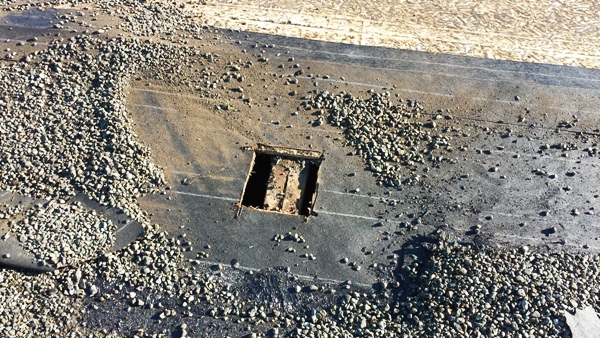 SOME OF THE VENTS WERE NOT INSTALLED PROPERLY.




IT TOOK US A DAY TO TEAR OFF ONE SIDE AND INSTALL THE PLYWOOD. BYE THE END OF THE DAY THE RUBBER GUTTER LINER WAS IN, THE DRAINS WERE INSTALLED, AND IT WAS COVERED WITH A WATERPROOF UNDERLAY.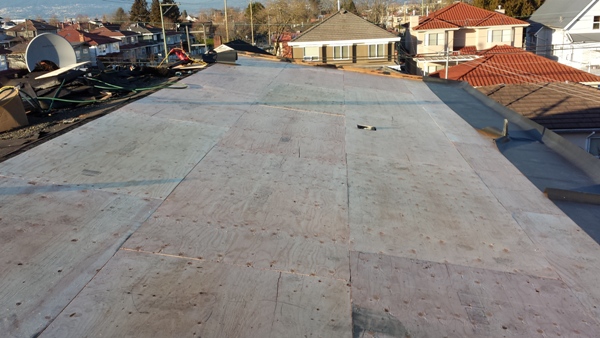 NO COMPANY COULD HAVE INSTALLED ANY ROOFING SYSTEM, WITHOUT RESHEETING. THREE OTHER COMPANIES INCLUDING PENFOLDS, EXAMINED THE ROOF AND NEVER MENTIONED A WORD ABOUT ROOFDECK REPAIRS, AND RESHEETING.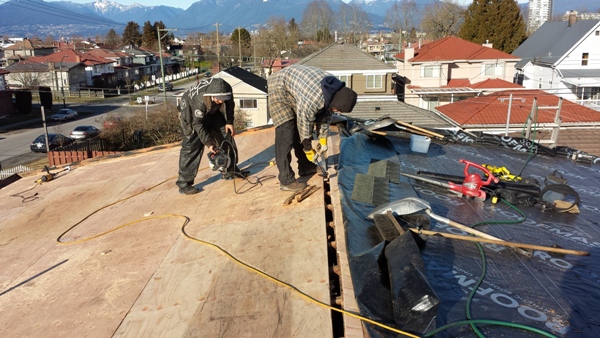 THE NEXT DAY, WE SHEETED THE OTHER SIDE OF THE ROOF, AND CUT OUT THE OPENING ACROSS THE PEAK, FOR OUR CONTINUOUS RIDGE VENTING.




WE INSTALLED OUR SNAPLOCK ROOFING PANELS ON ONE SIDE, IN A DAY.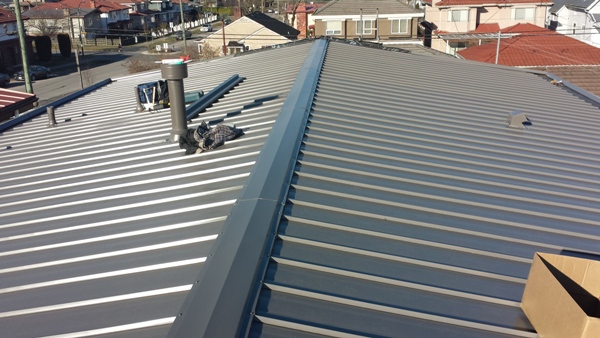 THE NEXT DAY WE COMPLETED OUR METAL ROOFING PROJECT, WITH FLASHINGS AND ALL. OUR CUSTOMER AND HIS WIFE EXAMINED THE ROOF, AND THEY WERE VERY PLEASED WITH THE FINISHED PRODUCT.