back project gallery

[17]COOL METAL ROOFING IN BURNABY B.C.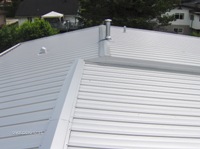 TRISTAR INSTALLED THEIR 12" SNAPLOCK ROOFING PANEL/HIDDEN FASTENER SYSTEM IN 24 GAUGE - METALLIC SILVER - KYNAR FINISH. THIS ROOF IS HIGHLY REFLECTIVE AND WILL RESIST HEAT GAIN IN THE SUMMER MONTHS.




THIS IS A WELL MAINTAINED HOME IN BURNABY. THE LAST ROOF WAS INSTALLED THROUGH A PROMINENT VANCOUVER BASED ROOFING CO. WHICH ADVERTISED HEAVILY ON THE RADIO.




THE ROOF WAS A SINGLE PLY BASE SHEET WITH A NON GRANULATED CAP SHEET AND ALUMINIZED COATING. THE ROOF BUCKLED DUE TO IMPROPERLY SECURED BASE SHEET,& DAMP ROLLS,TRAPPING MOISTURE BETWEEN THE PLIES.




THERE WERE 4 GOOSENECK VENTS INSTALLED,WITHOUT HOLES BEING CUT INTO THE ROOF CAVITY.POOR VENTIALTION CAUSED THE PLYWOOD SHEETING TO WARP AND BUCKLE.




THIS ROOF LASTED 9 YEARS BEFORE LEAKS DEVELOPED.THE ROOFING COMPANY REFUSED RESPONSIBILITY. THE RETIRED COUPLE DIDN'T WANT PRESS THE ISSUE, SO THEY HIRED TRISTAR TO REDO THE ROOF WITH METAL.




WE STRIPPED THE TORCHON ROOF AND DISPOSED OF IT. WE REINFORCED THE ROOF BY INSTALLING 1/2" PLYWOOD OVER THE EXISTING ROOFDECK.




THE OWNERS WERE VERY PLEASED WHEN THEY SAW PICTURES OF THEIR COMPLETED LIFETIME METAL ROOF SYSTEM, AND TRISTAR'S PREMIUM RIDGE VENTING SYSTEM, WITH FOAM CLOSURES.




ALL THE FLASHING WORK WAS INSTALLED IN A NEAT AND PROFESSIONAL MANNER.




WE INSTALLED A NEW EPDM GUTTER LINER, AND REPLACED THE 2" DRAINS WITH 3" COPPER DRAINS, AND LARGER DOWNSPOUTS.




ANOTHER LOW SLOPE METAL ROOF INSTALLED BY TRISTAR ROOFING.THE OWNERS SHOULD NEVER HAVE TO WORRY ABOUT REROOFING AGAIN.