back Services

ASPHALT SHINGLES


ROOFING A MOBILE HOME REQUIRES SPECIAL ATTENTION TO ENSURE A WATERTIGHT APPLICATION. WE HAVE THE EXPERTISE TO GIVE YOU THE PROPER ADVISE IN CHOOSING A ROOF COVERING. THERE IS A PREMIUM TO BE PAID FOR THE JOBS TO BE DONE PROPERLY, BUT LET US SHOW YOU HOW WE DID THIS JOB IN LANGLEY B.C.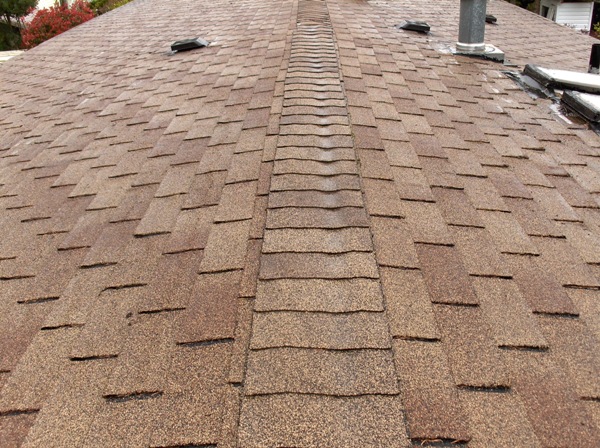 WE DIDN'T HAVE MUCH CHOICE IN ROOF COVERINGS. BECAUSE OF A LIMITED BUDGET, WE INSTALLED THE VERY BEST OF SHINGLES, WITH THE BEST UNDERLAY. WE TOOK OUR TIME AND PAID EVERY ATTENTION TO DETAIL.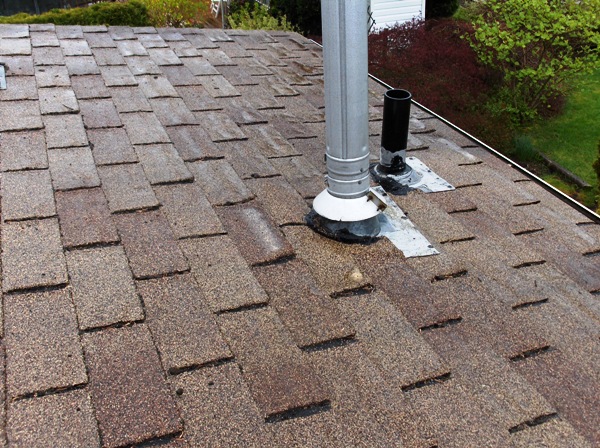 ASIDE FROM THE FACT THE MANUFACTURER USED THE CHEAPEST ASPHALT SHINGLES THEY COULD FIND, ALL THE FIXTURES LEAKED AND HAD TO BE PATCHED AND REPAIRED OVER TIME.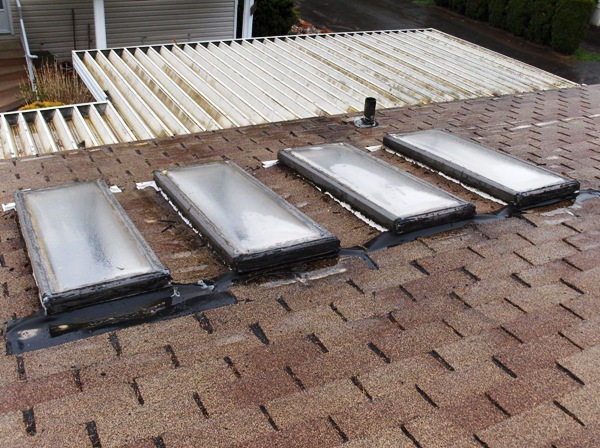 THIS MAY HAVE BEEN THE MOST UNPROFESSIONAL SKYLIGHT INSTALLATION WE'VE EVER SEEN. IF YOU EVER INTEND ON BUYING A MOBILE ,ESPECIALLY A PRE-OWNED ONE, HAVE THE ROOF INSPECTED BEFORE YOU MAKE THE DEAL.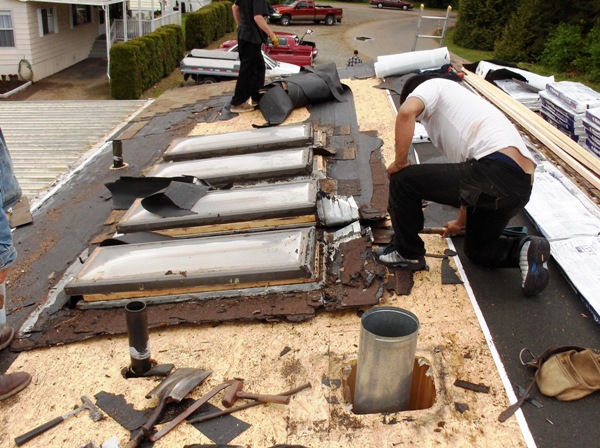 IT TOOK ABOUT 2 HOURS TO REMOVE THE ROOFING MATERIALS AND PATCHWORK FROM AROUND THESE SKYLIGHTS. IT WAS A HELL OF A JOB. MOST CUSTOMERS WILL NEVER KNOW HOW MUCH EFFORT GOES INTO THIS TYPE OF WORK.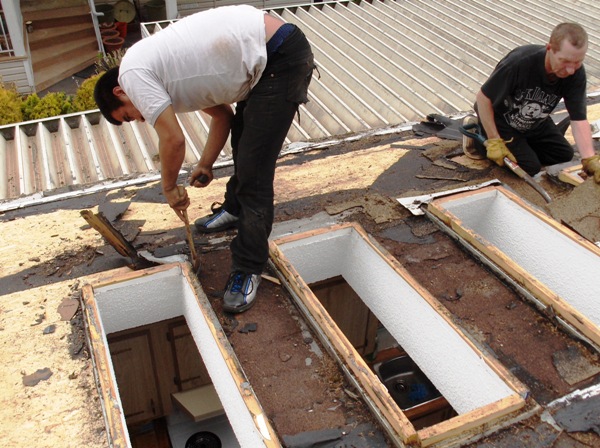 WE LITERALLY HAD TO USE AN AXE TO CHOP OFF THE TAR GUM OFF THE SIDES OF THESE SKYLIGHTS.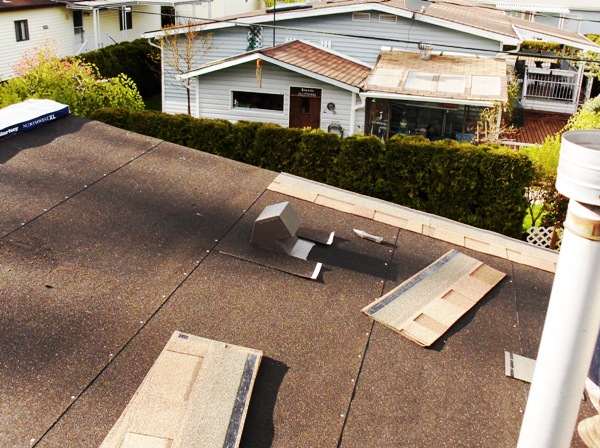 AFTER THE SHINGLES WERE REMOVED WE APPLIED PREMIUM GRADE ICE AND WATERSHIELD TO THE COMPLETE ROOFDECK, FOR A SUPERIOR WATERTIGHT APPLICATION.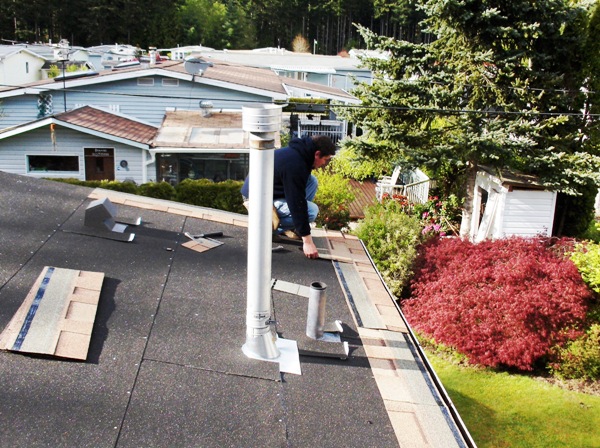 A STARTER COURSE OF SHINGLES WAS APPLIED AT THE EAVES AND UP THE GABLE EDGES. WE INSTALLED A NEW B-VENT BASE FLASHING AND COLLAR / PROPER PLUMBING LEADS / AND METAL VENTILATORS.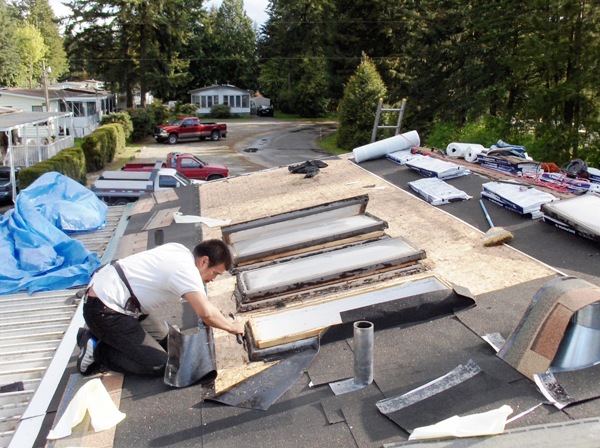 IN THE MEANTIME JEREMIE HAS COMPLETELY CLEANED UP THE SKYLIGHTS AND COMMENCES TO WRAP THE SKYLIGHT CURBS IN ICE AND WATERSHIELD.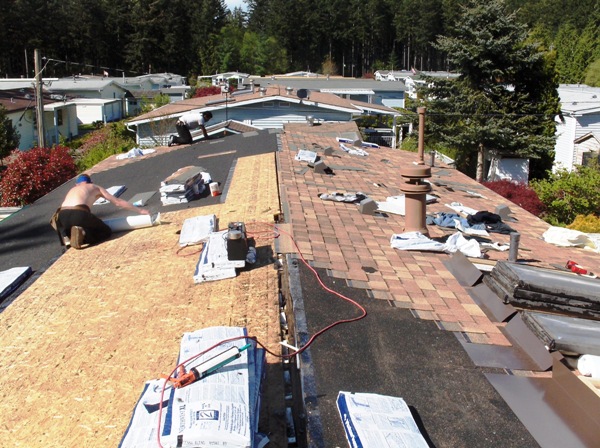 EVEN THOUGH WE'RE NOT CRAZY ABOUT USING SHINGLES ON LOW SLOPE APPLICATIONS, WE RECOMMENDED THE USE OF MALARKEY NORTHWEST FIBREGLASS SHINGLES, AS THE BEST CHOICE.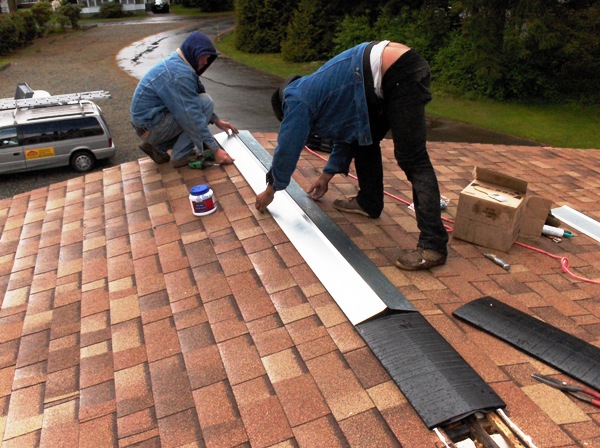 WE INSTALLED CONTINUOUS RIDGE VENTING AT THE PEAK OF THE ROOF PLUS A HEAVY GUAGE GALVANIZED RIDGE CAP TO SUPPRESS MOSS GROWTH.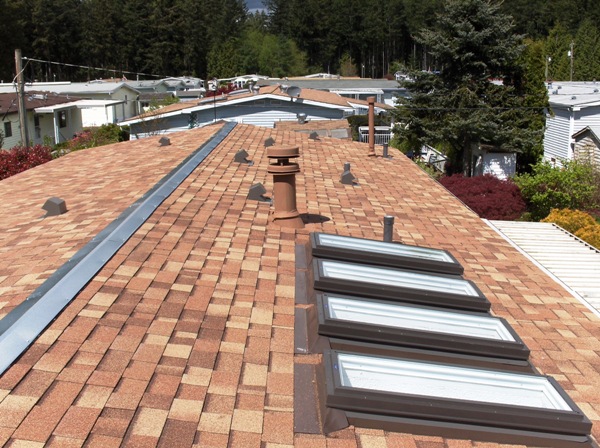 HOW DO YOU LIKE THIS FOR A [BEFORE AND AFTER] PICTURE. THIS JOB IS ABOUT AS GOOD AS IT GETS.IT WASN'T DONE CHEAPLY, BUT IT WAS DONE PROPERLY.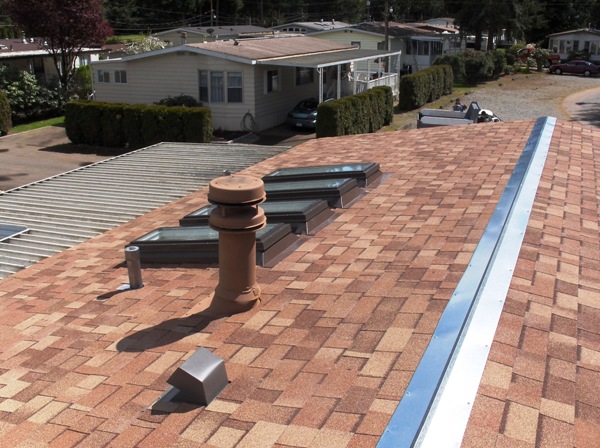 WE REPLACED THE PLASTIC SKYLIGHTS WITH PROPER DOUBLE GLAZED GLASS SKYLIGHTS. THE FLASHING JOB WAS PICTURE PERFECT.